Live Baccarat is a variant of the traditional card-comparing game that allows players to play while following the action on the table in real time. Like most live casino games at Unibet, Live Baccarat measures up exceptionally well.
Getting Started
Enjoying Live Baccarat at Unibet starts by opening an account. The variety of live dealer games at Unibet is vast; a player only needs to click through and access their preferred games. Looking at Unibet's reputation as far as live dealer casinos are concerned, live dealer tables are always actioned packed. Baccarat tables, for instance, are known for their lively atmosphere thanks to their friendly and professional dealers.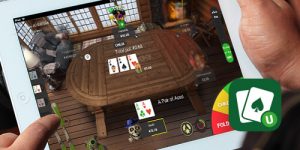 First-time players at Unibet are ushered in with a generous welcome bonus, 200% match bonus. This means that wagering $100 means that the player is gifted with an extra $200 to play within the casino. With $300 to wager on Live Baccarat, an impressive and extended live gaming experience is almost assured.
How to Play Live Baccarat
Live Baccarat is easy to play. Players can either choose to wager on "the player" or "the banker." The main goal here is to predict who among these players will have a stronger hand after each is dealt with two cards. Based on standard Baccarat card ranks, the hand with a total value that is close to nine wins.
Why Play Live Baccarat
It is possible to play Baccarat via the traditional software at Unibet. With outstanding animated graphics and robotic sounds, there is a real potential to win big. But many punters believe that traditional casino games are not as impressive as live dealer games.
When it comes to Live Baccarat, all focus shifts from the random number generator to the dealer. Real-time interaction with the dealer and other players provide an unbeatable gaming experience, which is essentially a 'hybrid version' of brick-and-mortar casinos and that of traditional casino software.
What Unibet's Partnership With Evolution Gaming Means
Unibet enjoys a decent partnership with Evolution gaming, which powers all their live-dealer games (Baccarat, roulette, and blackjack). This partnership is in line with Unibet's plans to reach to new demographics and achieve global expansion. But what does this partnership mean to Live Baccarat players?
Live Action
Evolution Gaming offered Unibet an improved version of Live Baccarat, which provides an unmatched authentic playing experience. With the cards served face down at the bean-shaped table, there is no other authentic way to enjoy this card comparing game. Other unique added features such as a window offering playing statistics and the ability to view moves made by other punters all serve to enrich the playing experience.

Exceptional Views
Evolution gaming powered live dealer games never fall short as far as quality is concerned. As much as the quality at Unibet is reasonably good when compared to industry standard, Evolution Gaming offers multi-camera installation options that add a cinematic feel to Baccarat play. More camera around the table ensure that every subtle nuance in the game is captured, which consequently enhances the gaming ambiance.
Fast-Paced Gaming
A standard Baccarat live game lasts around 48 seconds. However, some players would fancy maximum betting opportunities during their stay at the table. Evolution gaming offers the Live Speed Baccarat, which is essentially a super-fast alternative which lasts only for 27 seconds.
Any Baccarat player is assured of an exceptional Live Baccarat experience at Unibet. Unibet offers a variety of Baccarat tables which cover all budget ranges. Live Baccarat offered at Unibet is described as the closest a punter can get to a land-based casino devoid of all the fuss associated with land-based gaming.